Survivor: After The Final Torch – Natalie
Oct 26, 2018
Ara Andonian
Survivor: David vs. Goliath is on! Season 37 is off to a wild start with a whole new crop of castaways vying for the million dollar prize, and notoriety as Sole Survivor at the end of 39 grueling days of sleep deprivation, mental and physical challenges, oh and having to deal with a ton of people you'd really not rather be around for any extended period of time haha! Natalie didn't come across as much of a team player on the show this season and that rubbed some of her fellow castaways the wrong way, but in an individual game for a million dollars, can you blame her? We caught up to find out exactly what went down in Fiji. Check it out! – Ara
– – – – – – – – – – – – – – – –
Eggs and Jackets. Jackets and Eggs. Those words will forever define this past episode and what an episode it was! What an experience but wow that weather looked pretty apocalyptic. We haven't seen many full evacuations over 37 seasons, but that looked pretty damn scary. How did you keep your mind right with all the nasty weather you guys had to deal with out there?
I didn't consider the weather nasty. In fact, it was one of the best events within the event. Most of the Goliaths had melt downs during the cyclone and since I was on the outskirts, it represented an opportunity for me.
Not only did you have to deal with the elements, you had to deal with your tribe, and everything that comes with having to make moves to last 3 more days, then 3 more days, etc. When the tribe swap happened, what were your initial thoughts on what you had to do to work towards the merge?
When the tribe swap happened, I knew I was in trouble. Mike was resentful that I stayed and Jeremy was voted out. Angelina was not trustworthy. But we spoke and they commented to staying Goliath. I should have not trusted their commitment and connected more with Nick and Lyrsa.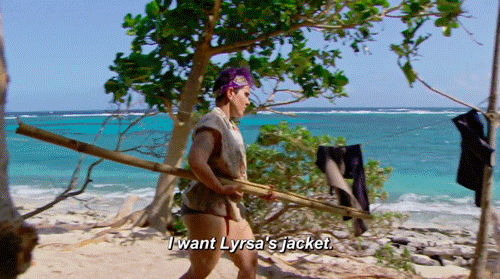 Let's talk about the jacket first and clear some things up. First of all, who had jackets and where did they come from, why did you gun so hard to get one from Nick to help Angelina, and why didn't you pass it off to Angelina when you were voted out? She pretty much begged you for the jacket, you acted like you couldn't even hear her haha! It made for great TV but wow that was cold. Any reason why?
Angelina lied to me several times in the game. I did not have her support as I had verified such throughout the game. Mike never made any decisions in the game so I knew he did not make the final call to vote me out. It had to be Angelina. She literally wanted a jacket, anyone's jacket and was willing to vote them out for it. I should have taken more time to explain that to Nick. I thought he got it, but no.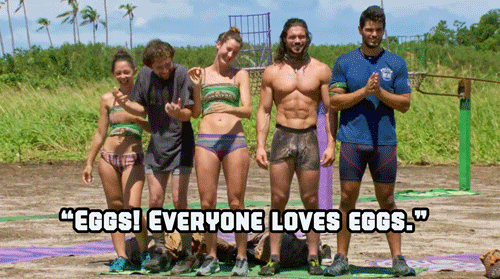 One of the storylines that will forever be linked to this season is the whole Lyrsa vs. Natalie angle. You two didn't see eye to eye for much of the season and when it came to the eggs you won during the reward challenge, you wanted to cook them all at once, some of your tribe members thought that was nuts, Lyrsa had something to say about it. I know I would have devoured as many eggs as I was allowed, but I wasn't in the game, so what was your thought process with the eggs?
We have 12 eggs, she wants to leave 2 to cook in the morning. Meanwhile, she and the rest of the tribe DO NOT know how to start a fire and to add insult to injury, we have enough supplies to start maybe another 1-2 fires. Therefore, I would need to start a fire in the morning for two eggs. This was unreasonable in my thinking for her to push on something like this. Then everyone got involved and 5 people to decide on what should be with 2 eggs was ridic. I was never hungry so it was never about devouring as much as I could,it was all about our supplies and the fact that she nor anyone else knew how to start a fire.
In retrospect, do you think you should have taken Jeremy's advice and cooled your approach to the game in terms of how you dealt with your fellow castaways out there or is just that how you are 24/7?
It's not how I am, it was the narrative and edit. Did I have some gruff moments, yes. Jeremy and Natalia were obsessed with me…did you watch it? It was not the entire tribe. However, some followers found it easy to go with what was being put out there. It's much easier to follow rather than take the lead. I could have just never spoken to Natalia and that would have worked as there would not have been the follow up from Jeremy.
It's pretty much game on from the minute you hit the beach, but between challenges and while the rain was doing it's thing, what did you guys do to keep busy while the storm? Was was the most fun activity or thing that went down during down time out there?
We were boring. We did nothing…..some small talk.
Would you play again if Survivor came calling?
I'm in sales and want to generally say YES to things before I say no. If they wanted me back, I would have to consider.
– – – – – – – – – – – – – – – –
Watch Survivor: David vs. Goliath Wednesday nights on Global!